There continues to be a lot of speculation about the El Niño that will likely develop later this year. As most of you read earlier this year, the majority of meteorologists/climatologists were leaning towards a stronger El Niño developing by this winter, which would have had major influences on the weather around the globe particularly this upcoming winter. Most of them had valid reasons for these predictions, and while most models agreed with these predictions earlier this year, I did point out a couple of reasons why I didn't think we would go into a super El Niño. Please understand that predicting when an El Niño will develop and how strong it will be can be extremely difficult. 
The reason I care so much about El Niño is because it can influence the weather in a major way, particularly during the winter months. Strength and placement of the warmer waters across the equatorial Pacific play a big role on how much El Niño influences the temperatures and precipitation across the United States. 
For most of this year, the atmosphere has not reacted in a way that would favor the development of an El Niño, although that has begun to change in recent weeks. The atmosphere MUST react to the warmer waters across the equatorial Pacific to further reinforce the buildup of warmer waters across the central and eastern Pacific. Without the help of the atmosphere pushing El Niño along, it simply cannot develop, which is why cooler waters started to re-emerge back over the region that dramatically warmed up earlier this year. This entire process is a ocean-atmosphere system, and when the warmer waters across the equatorial Pacific drive the atmosphere to induce even additional warming of these waters, this is what is referred to as a positive feedback, which is what you need. 
Now that the atmosphere is starting to react to a developing El Niño, the warmer waters will likely begin to emerge to the surface, so it'll be interesting to watch what takes place over these next several weeks. Typically, winds blow from east to west across the equatorial Pacific, which is referred to as trade winds, but this completely reverses during El Niño events. If you look at the graphic below, you can see that above-average temperatures are beginning to re-develop and re-surface. The top part of the graphic is the ocean surface and the further you go down on the graphic, the deeper the ocean. Notice the darker oranges, and how they're starting to surface back to the top.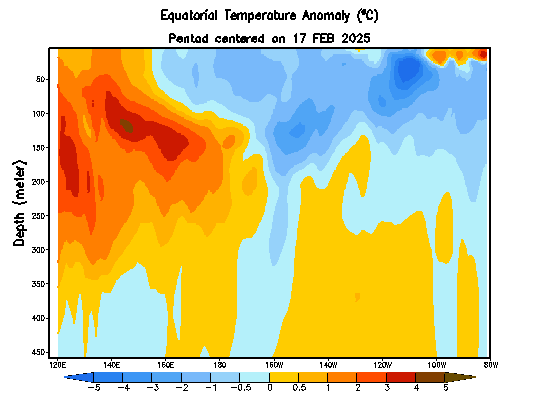 From everything that I'm seeing, I still believe that we are going to be dealing with an El Niño Modoki event, meaning the warmer waters will be more focused across the central Pacific instead of the eastern Pacific. If you look at previous years that had similar setups, the temperatures during the winter were warmer out West particularly in the Northwest, while it was really cold out East. As I mentioned in my winter forecast, there are other factors that could influence this winter, just because this El Niño will likely stay weak to moderate. If this El Niño were to be stronger than I am anticipating, then I'd have to make some changes to my winter forecast, but I find that to be unlikely at this point. 
An El Niño Modoki event would most likely bring wetter conditions to southern California and across most of the Southern Plains and Southeast. Due to the colder-than-average temperatures that I'm expecting further east this winter, this would bring above-average snowfall for many regions across the Southern Plains and Southeast, even in areas that may not see snow too often. The Mid-Atlantic and most of the Northeast will also be very cold with the Mid-Atlantic and parts of the Northeast being impacted by several larger storms this winter. Please read my 2014-15 winter forecast to see what I'm expecting for your area this winter. 
I'm still going to continue to keep a watch on everything. Depending on how everything plays out over the next couple of months will determine how our fall will end up being, and then of course, my main focus will shift to winter. Always remember that things can change, meaning my forecasts are subject-to-change. 
Please continue to follow Firsthand Weather on Facebook, and be sure to like the page if you haven't already. I always try to keep the Facebook page updated as much as possible.